Fishing Report 07 September 2007

Glenmore Trail - Policeman's Flats
After the equipment has been rigged, the safety meeting and the paperwork
completed, as we begin our sail now out from the landing it still amazes me
how the curtain falls behind on the busy city and the river is now the setting.

A prince's nymph and a hare's ear were the best flies of the day. Water
clarity was good with some rising fish and we tried a dry at them for just
a brief time as we were getting hits on both a dropper and a nymph rig.

On the river 9 AM - 4:30 PM.

Fishing requires patience. Learning fly fishing means a person also must
learn to exercise patience. The best part is that when you are occupied
patiently fishing, the remainder of your life seems become magically sifted.

GPS STATS
| | |
| --- | --- |
| FLOW | 6.4 km/hr |
| TRIP | 21.5 km |
| MAX SPEED | 12.5 km/hr |
| MOVING TIME | 4H 05MIN |
| STOP TIME | 2H 37MIN |
Water Temp (surface): 13°C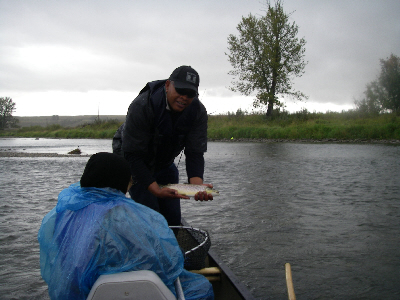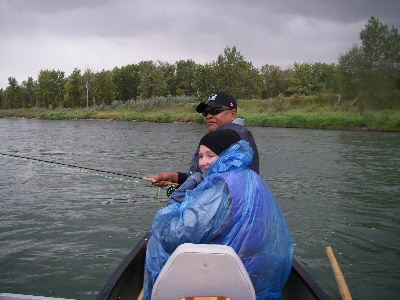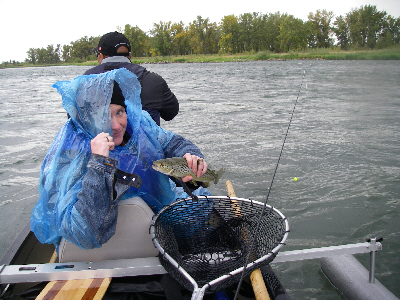 I would like to say how much I enjoyed myself today, it was a pleasure to be your
guide. Attached pics. Too bad we missed the pic of Dolores' rainbow, but may
be not. Now there is room for one of those fishing stories Irvine was talking about!
"Thank u as well. We really appreciate your time and patience and how accomodating
you were. Would really like to do that again, and hopefully there will be a bit of sun.
Thanks again!"
FOOT & CHAIN