Fishing Report 23 Sept. 2014

Glenmore Trail - 22X Fish Creek
I nosed the canoe over into the first hole and the day began with four Rocky Mountain Whitefish within sight of the launch. Next came the rain. The rain was warm anyway with no wind, wadered up and dressed in a light waterproof coat, but lasted most of the morning. The next fish that took made the tiny nymph paired below the larger one in a dual rig appear humorously large. I've taken to using a larger nymph on the top in case a big fish hits, maybe he'll take that one, but the small size 18 nymph produces better and takes large fish if there is a good hook set. The sun came and as I moved down river I spotted a curious and endearing critter popped up among the rocks.

The mink reminded me of a story Grandfather told of when he was a teenager, a century ago now, trapping among other things…. mink. Thirty or so would make a waist length fur coat I expect. He'd run a small trap line to make the pocket money that all teenagers like to have and one morning he found a flying squirrel ensnared in his trap but uninjured. The flying squirrel cried, struggled for a while, and then just gave up and sat there in the cold. When Grandfather released him, instead of immediately running away he first ran up Grandfather's leg to the knee, thanking him. The trap line was picked up, after that, and never set out again. That was soulful brother mammal. Looking at this mink today I saw the sparkle in her eye.

At nearly noon, today, the trout, both rainbows and browns, began to bite. That's the way it goes! Several, maybe ten. Enough to loose the count. The largest one to the net was a beautiful 18 inch rainbow. Nearing the end of the float I dropped anchor at a likely new pool I'd discovered only the week before. It's all changed since last years flood. As I was picking up to cast, a very large trout took the apparently emerging nymph. For five explosive seconds it was an exhilarating battle. Then…. the fish was gone. He'd taken the smaller of the two flies. As I was casting there hadn't been a good enough set and he'd straightened out the hook. Man, sure to have been well over 25 inches it might have been that fifteen pound brown I've heard about! What a great day!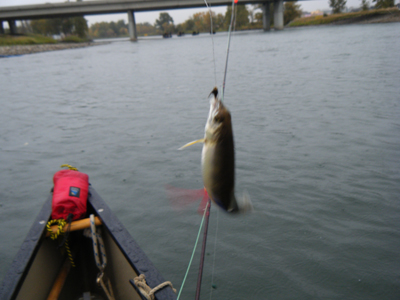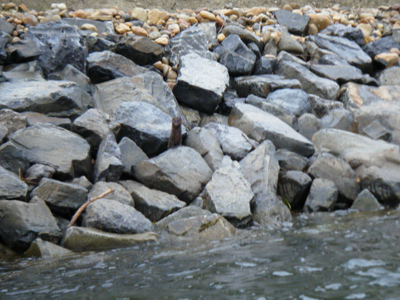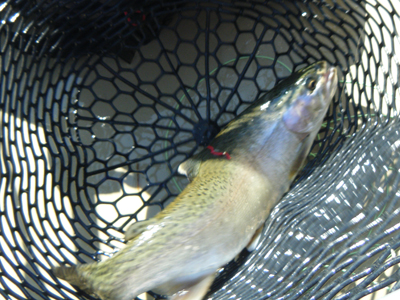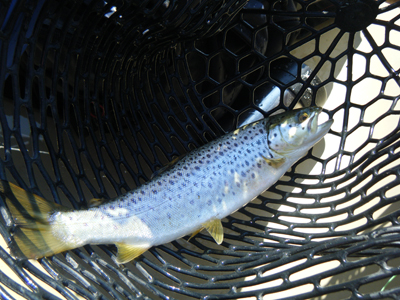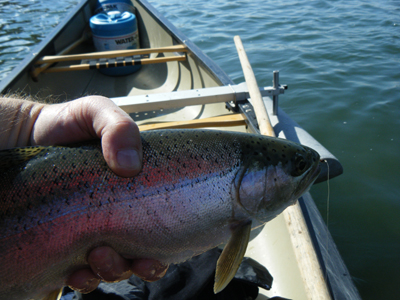 On the river 9:00 AM - 3:00 PM
FOOT & CHAIN